Interview with Iolanda written and published by: Soken xymax online.
ABW starts by believing that people will do their best work if they are given freedom
Iolanda Meehan/Managing Partner Asia, Veldhoen + Company
The Dutch-born concept of ABW has been gaining attention as many Japanese companies make efforts in workstyle reforms. It stands for "Activity Based Working" and is a new way of working, in which workers can work anywhere, any time by choosing where to work according to the content of their work ("Activity").
We spoke with Iolanda Meehan, who is Managing Partner Asia of Veldhoen + Company, the Dutch consulting firm that gave birth to the ABW concept 30 years ago, on the themes of the organization and workplace transformation in Japanese society.
In Part One of a two-part interview, Iolanda talks about the basic idea of ABW, the necessity of workplace transformation, and the importance of leadership in ABW.
An approach to make workers to do their best work
Around 1990, when the founder of our company created the ABW concept, people working in the cities of the Netherlands were suffering from crowded environments and traffic jams. However, technology had started to play a role in office work, which our founder saw as an opportunity. He thought that work would improve if workers went to the office not because they had to but because at the office amazing things happened, and if their activities were well supported. ABW is an approach for making this possible.
ABW is a belief that people and teams will do their best work if given the freedom to choose where, when and with whom to work. It maximizes the freedom given to them. There is no magic formula for ABW nor can a plan or solution for ABW be sold even if someone asked for it. It is not about introducing hot-desking to offices. It is about giving workers the freedom to choose as well as choices.
The same idea applies to the office and the house
When incorporating ABW into the workplace, it is necessary to clarify what kind of activities are taking place within the company and for users to understand the design intent of their environment. It might be helpful if we applied the idea to a home. We brush our teeth in the bathroom, sleep in a bed, and prepare our food in the kitchen. Because we understand the design intent of a house, we will not eat in the bedroom. When we are at home, we carry out each activity in the environment that has been prepared for that activity.
At the same time, no two homes in the world are alike. This is because people have different customs and tastes and are in different stages of life. Activities change according to the family structure, hobby, and type of work, which all require different environments. If you have children, you will have rooms for the children and if you like to cook, you will have a kitchen that is a bit bigger. We already do activity-based living, easily.
So, my question is, when we go to work, why are we working in an environment where each activity is not supported appropriately? I think one of the reasons might be in school education.
When we start going to school, at five or six years old, we are given a small desk in front of us and do Japanese writing, physics, drawing, and pretty much everything there for many years onward. Since we were children, we have become used to a lifestyle where all the serious work is considered to be done behind the desk. And when we enter the workforce, we may be assuming that work should be done behind the desk or at the meeting room and everything else is not considered serious.
Today's knowledge workers do all 10 tasks behind the desk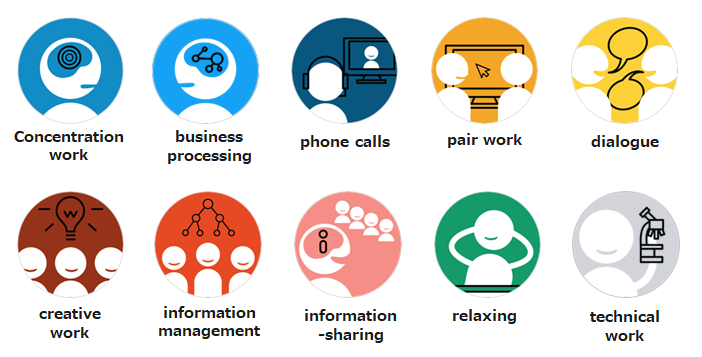 However, this was only applicable in times when workers only did one or two tasks. Stamping the paper, signing the paper, and maybe working a bit on the computer. But now the knowledge workers do on average around 10 activities per week. The activities can be grouped into concentration work, business processing, phone calls, pair work, dialogue, creative work, information management, information-sharing, relaxing, and technical work. All of these are done by one worker. Managers would have even more complex tasks. It doesn't make sense to try to do all of those activities at one desk.
In order to support this broad range of activities, it is necessary to provide spaces that suit each activity. You need to consider spaces that allow people to focus. An environment where confidentiality can be ensured. You need to allow people to carry out team work in different ways—small teams, big teams. You need to give people an environment to relax.
Few people that think relaxing is a work activity, but it is impossible to keep doing knowledge work for more than eight hours without resting your brain. We are not machines. So, I do believe that relaxing is an extremely important work activity.
ABW is an approach based on the activities of the workers, which is supported by the sharing of a technology concept and a behavior concept. To share the concept that people should relax as part of their work and to make ABW work, it is necessary for the employees and the organization to trust each other. ABW cannot work without trust.
Leadership of the new era
Now, I would like to talk about leadership. This is because workplace transformation cannot happen without leadership. In incorporating ABW in an organization, leadership works as a large wheel. The larger the wheel is and the faster it turns, people will embrace ABW more easily.
Then, what is leadership? Is it taking care of a team? Is it supporting teams to do their best? Some of you might say that leadership is about authority. Personally, I believe leadership is not about authority, but there are different interpretations.
Simon Sinek, who is a motivation coach, influencer, etc., says that if your actions inspire others to dream more, learn more, do more, and become more, then you are a leader. In other words, his definition of leadership is the power to inspire others.
This is the end of Part One. In Part Two, Iolanda talks about the six leadership skills required in ABW, and about the relationship between ABW and "trust," which she says is an especially important skill of the six. Click here to access Part Two.
Iolanda Meehan

/Managing Partner Asia, Veldhoen + Company. Iolanda Meehan is the Managing Partner for Veldhoen + Company in Asia. Iolanda has more than 20 years of experience in previous roles as management consultant and as business leader in PwC, Philips and Haworth. She has a BSc in Economics and Management and is a graduate of Change Leadership Programs from Stanford University and Wharton Business School. She is accredited as a Global Remuneration Professional (GRP).