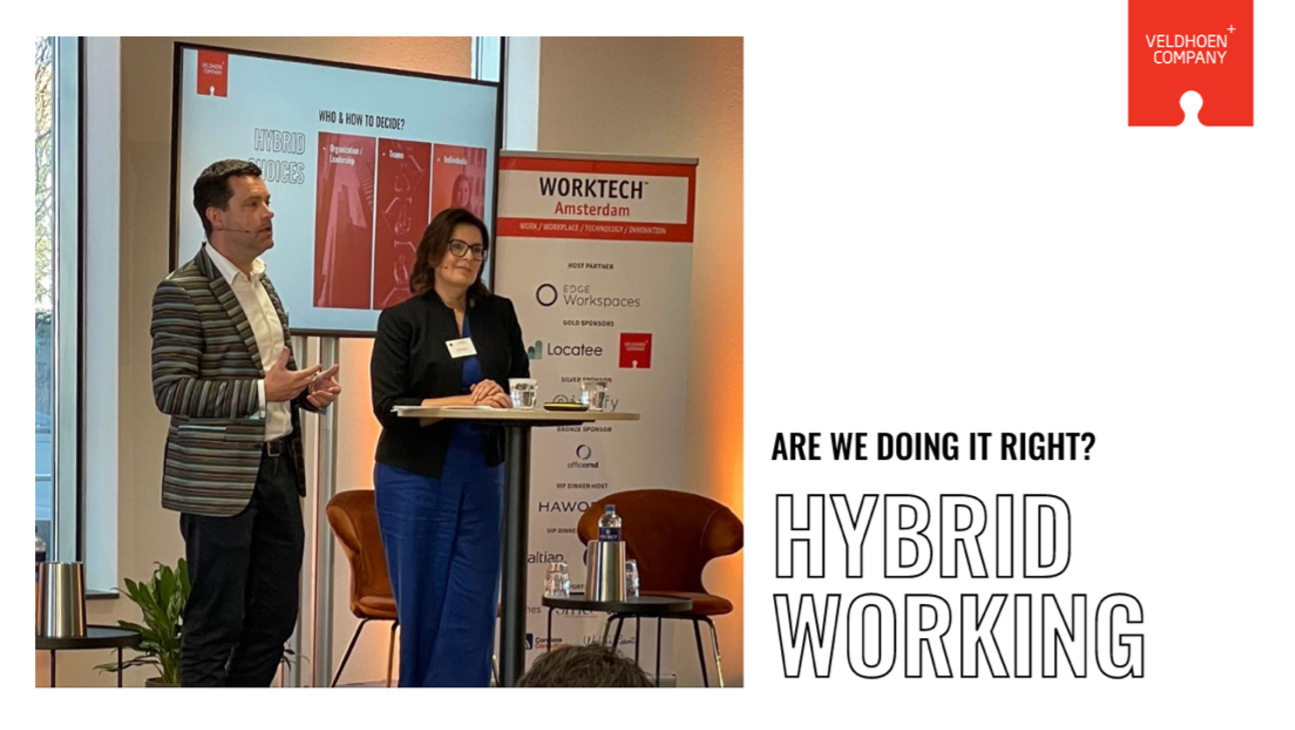 By now – April 2023 – we can state that most organizations have adopted a form of Hybrid Working. Some by strategic choice, others via a self-proclaimed form of hybrid by letting their people choose. Organizations are now struggling to take back control, and some have issued mandates for employees to return to the office four or five days a week despite employees' reluctance to do so. We are also seeing fully remote organizations – primarily tech firms – now expressing the value of in-person connection.
So, hybrid working is the need of the hour, but are we doing it right? Earlier this year, we saw the collapse of two renowned banks: Silicon Valley Bank (SVB) and Credit Suisse. Two vastly different banks in different countries. While media reported that employees blamed remote work for SVB's failure, they also shared that Credit Suisse's rigid stance on forcing staff to return back to the office was a core reason of their downfall. These news reports were on opposite ends of the spectrum, and couldn't be further from one another.
Clarity is most easily found in black and white. The various shades of grey add ambiguity, and some discomfort on what results one might expect from navigating to the middle ground. We are seeing that executives, when navigating uncertainty and discomfort, are often fed by their own biases. For example; The Sunk Cost Bias – "We built such a beautiful space in 2019, we just want everyone here to enjoy it!", or the Proximity Bias – "It's true that if you aren't seen on site by the right people, you won't get promoted to leadership."
We are primarily observing a discomfort at middle management with how to move forward, and rightly so. In recent years, companies were relieved to find that with a completely remote workforce, work was still getting done. Teams were organising collaborative meetings and a new normal was being established at a time when it was still unclear how long we would be in these uncertain times.
However, at the same time, research shows that only 1 in 10 managers say they have full confidence on their team's productivity. Some of them blame hybrid working for their lack of confidence in team productivity and are looking to mandate days in the office as a solution.
This pull back into the office is felt most strongly by employees with newfound control over how they spent their working hours. They define their own ways of working and collaborate on their own terms. That control gave a sense of freedom that had long been desired, especially in companies where working from home was a no-go or only by exception. The control will not easily be relinquished back to the company. How do you appeal to those colleagues who claim better concentration at home, who really cannot come to the office for meetings because a puppy was bought and it can't be alone, or because daycare was cancelled during the pandemic and there needs to be someone at home when the kids return from school?

In the long term, research is showing productivity can suffer from prolonged periods of remoteness. The fewer connections between team members across the organization, the more risk of a breakdown of critical bridging ties.
As a result, many managers see this potential risk looming but often don't quite know how to find the gateway to the more hybrid future. It's important that organizations provide structure and support around the activities best done in person or remotely.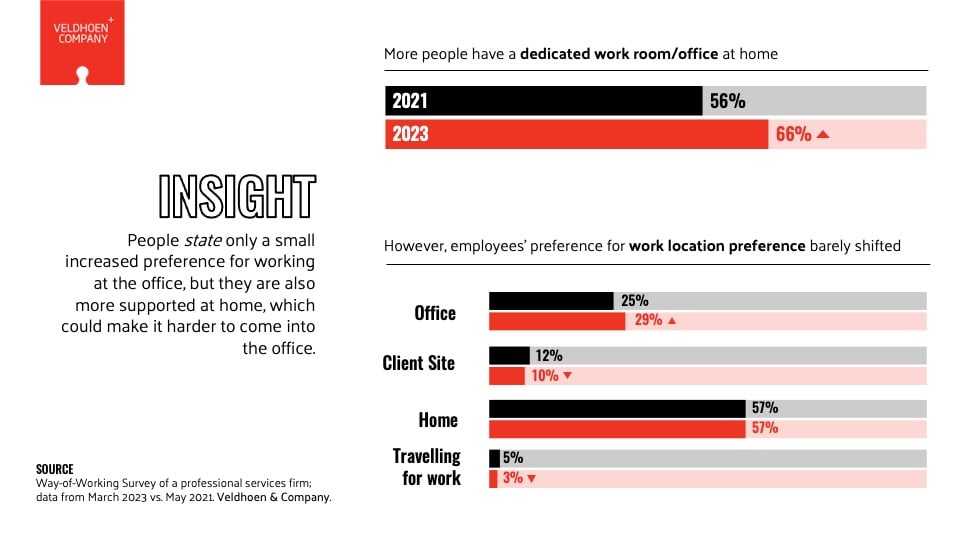 Way of Working Survey Data presented at WORKTECH Amsterdam 2023
So here are three things that we know based on data-insights:
Underlying personal preference has not shifted in the past 2 years:

People state only a small increased preference for working at the office however, they are also more supported at home, which could make it harder to come into the office. This trend was reported in Veldhoen + Company's Ways of Working survey of a professional service firm, which compared data from May 2021 versus March 2023.

Social connection is worth the commute:

Workers say they are even more interested in going into the office for their friends and peers, than for managers or leaders who is telling them they must attend.

Authenticity matters:

Employees with an authentic manager are more inclined to go into office for 1:1's. They are more open to work in-person, and more likely to discuss their wellbeing and mental health.
As managers, you should work on cohesion and social connections within teams. 68% of managers say there is a moderate to major challenge due to the shift to hybrid work. In other words, this needs work! It won't come naturally.
Next, we know that authenticity creates trust and cohesion. The key human questions leaders need to ask in the shift to hybrid is how do you create an environment where everyone is allowed to show up as their full authentic selves. How do you embrace the diversity that comes with that authenticity? How do you know the authentic selves of your team members? The key question is do you truly know your workforce? Do you listen to what they are telling you?
Like most transformations, it requires a compelling argument to motivate employees to move towards a compromise, to a hybrid working model that is in the best interest of the company and the employee. The difficulty is that data is our best tool when building a compelling case for change. However, qualitative performance indicators are essential and sometimes hard to find. The same goes when we think of the lack of performance indicators for some teams. The challenges and opportunities is to combine quantitative with qualitative data (in-depth dialogues), and marrying hard data (like real estate data) with soft data (people analytics).
If you don't have these types of data in place, we strongly recommend gathering data around how people work (activity patterns), how they work together (collaboration patterns), and how they connect (cohesion patterns).

Lastly, when we have this data, don't only turn it into dashboards and presentations. Find ways that your team can leverage this data in shaping the way they work, such as using it as the building blocks for team agreements.
Ultimately, we will work with you to create a unique culture and environment where people will have the space to thrive, the freedom to genuinely connect with one another and will proudly work as a part of your organisation.